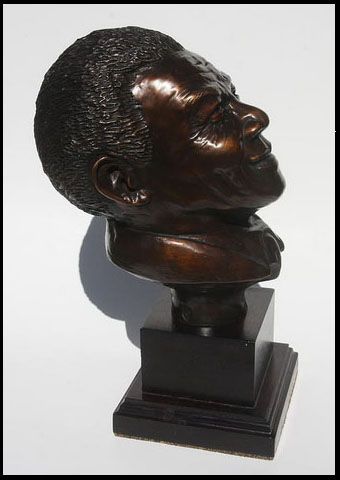 Nelson Mandela - Mini Bust
Description:
A small bronze bust of Nelson Mandela
Please Click On The Picture Links Above For More Information:
Please Click On The Picture Link Above To See More Of Greg's Work:
About:
I inherited my creative talent and ability from my father. Sadly, although gifted in so many ways, my dad was never able to fully explore the range of his creative abilities. I on the other hand have been blessed with many opportunities. I was sent to art school and discovered my true talent. But like most young adults starting off in the world, I followed what seemed to be a logical path and chose advertising as a commercial means to apply my creative ability. Now 37 years later, I have started painting and have realized the joy, passion, commitment and discipline required to tackle serious projects. I was inspired by our first democratically elected president, Nelson Mandela, a man I regard as one of the world's leading statesmen. I have dedicated my first two serious works to him and part of the proceeds from the sales will go to the Nelson Mandela Children's fund. I intend to have my first exhibition in September 2010.