Beloved Nelson Mandela
Description:
Rest Peacefully Beloved Mandela Nelson
Please Click On The Picture Link Below For More Information: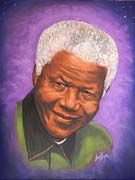 Born in Newark, New Jersey, and raised in the small town of Boonton, Joyce Hayes had a passion for art even as a little girl. She knew that she was not inclined to become a nurse or teacher as expected by her parents. Instead she choose to pursue her passion for art and attended the Morris County Vocational Technical School, earning an Associate Degree in Commercial Art at the finishing of her High School education. In the year of 1976 Joy's detailed pen and ink illustration of Jimi Hendrix, and rich velvet colorful pastel rendition of Diana Ross won her second place in the New Jersey Art Director's Scholarship Contest .Her appetite for art led her to The Newark School of Fine and Industrial Arts in Newark New Jersey where she completed her studies for a Degree in Fashion and Pictorial Illustration
As she matured artistically her small town community followed and enjoyed her art when displayed in an array of public settings.
Joy is a talented and versatile artist. She has explored many different mediums and styles, but she is best known for producing large scale pastel illustrations of well known people. In the medium of pastel renditions Joy is a self- taught artist. Having spent numerous years mastering the blending of pastel colors using her fingertips, she brings the canvas to life. It is refreshing to see an artist start from a sketch and build layers of under painting, then manipulate the pastel paint to create the desired illusion.
This process is very time consuming but it is what sets her art apart from the computer generated images we see every day around us.
Most of Joy's illustrations evoke the feeling that the viewer is being watched due to her ability to capture the spirit in the eyes of the subject, although Joy's artistic skills are not limited to drawing people.joy believes that through her art she can touch the hearts of people which will stimulate emotions and positively influence the individual.
Joys' illustrations have been used in many religious and non-religious publications in New York, and Georgia. Her art has been exhibited in such Galleries as The African American Museum of Art, Harris House At New Smyrna, Metro Galleries in Orlando, The Deltona Arts and Historical Center, and Hospitality Gallery in Orlando, Florida. She is a member of the Florida National Museum of Women in the Arts Association, and now resides in Florida where she continues to share her creativity with the world.
Altamonte Springs, FL - United States