Believing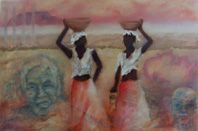 Please Click On The Picture Link Above For More Information:
size: 76 x51cm
BELIEVING 46664 - NELSON MANDELA
My painting was the result after a conversation with a lady about her time in Africa.
It focuses on time during the Apartheid and the strong feelings for life in Africa.
After many drawings and research into my journal, I scanned of of my Nelson Mandela sketches and adhered it onto my canvas, along with the face of an innocent African child.
Then I wrote one of Mandela's many quotes about freedom in calligraphy onto his face, and rubbed it back so it's there but so subtle, it's not that visible!!
This is a passionate piece of artwork in which I wanted to interpret feelings, memories, political views, controversy's, etc.
I felt its title should be 'BELIEVING', to commemorate the hope that Nelson Mandela had for everyone while in prison, and the belief for freedom that he still has for us all to this day.
The bars in front of Table Mountain are to symbolise his fight for freedom and there's a hovering mist through the mountain with grains of textured sand underneath to indicate a hardship, barren surrounding.
I researched newspaper articles about the Apartheid which I printed, tore and stuck onto the canvas, plus I've designed a map of Africa above the child's head.
The two ladies are purposefully mirroring each other as they go about their lives…working hard in difficult times.
The story is continued in the painting around all four sides of the canvas and varnished for protection.
Lindi © 2010
I would like to thank Lindi for asking if I could include the lesson plan in the Blog and she told me that, "I am proud to say that my painting/image is being used in three local schools to where I live and I would like you to pass this on to anyone who wants to use it in the way it was intended, with my blessing."
Cheshire - United Kingdom