Nelson Mandela
Description:
I have been painting professionally for twenty years. In that time I have focused primarily on landscape painting and published eight coffee-table books of my art and poetry. In January of 2012, I decided to act on a long simmering inspiration. During World War II my father, then living in Luxembourg, was imprisoned by the Nazis and sent to a concentration camp. He endured unspeakable atrocities but fortunately managed to escape. He would then work nine years to earn enough money to journey across the Atlantic to the United States, seeking peace and opportunity for himself and his future family.
With a deep sense of gratitude and respect for my father and compassion for those who have senselessly needed to endure such oppression and injustice, I decided to create a collection of paintings called The Great Peacemakers. My aim is to educate, entertain, and inspire through the analysis of biographical research and creativity of visual art and poetry. The collection will be published in my next book. It will include biographies of the peacemakers, featuring the influences they shared in "bending the arc of the moral universe." It will also include a companion DVD of videos featuring the creation of the paintings with voice over poetry.
In the painting of Mandela I metaphorically present him as a great sculptor of a nation. The sub-Saharan philosophy of Ubuntu provides the foundation from which the South African national flower the King Protea–itself symbolic of courage and diversity–blooms forth. A continent emerges in which blacks and whites live hand in hand peacefully. Ghosted back in the background is the Grand Parade in Cape Town. Hands are raised jubilantly for Madiba.
Amandla Ngawethu: Power To The People.
Please Click On The Picture Link Below For More Information: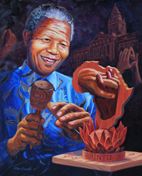 Please Click On The Picture Links Above And Below For More Information:

About:
Steve Simon was raised outside Chicago by immigrant parents from Luxembourg. As a youth, Simon enjoyed drawing but eventually pursued more technical interests. After receiving his bachelor's degree in mechanical engineering, Simon practiced engineering in Germany. He later returned to Chicago to work as a management consultant.
While in Chicago, Simon participated in oil painting workshops in the evenings but still did not consider an art career. Still searching for his calling, Simon chose to pursue an MBA in international business during which he studied in Paris, New York, Tokyo, and nine other cities throughout eastern Europe and Asia. At this point, his travels had brought him to over thirty countries as the cultural exposure continued to fuel the latent artist.
After receiving his MBA, Simon accepted a consulting assignment in Paris. Here he could explore the art world which so intrigued him. In his free time, he visited art museums and painted in his studio apartment in the famous artist's quarter of Montmartre. Upon completing the Paris assignment, it became clear to him that the artist within must be acknowledged.
It was then Simon made the decision to pursue his real passion. In 1994, at age twenty-nine, he moved to California to start his art career. He has since produced over 350 oil paintings, published seven art books of his work, created a broad selection of limited edition, canvas giclée prints, and owned an operated his own gallery on scenic Balboa Island, California for eight years. In addition to a broad portfolio of corporate gift clients, his collectors include a wide variety of private and government clientele, domestically and internationally.
In 2007, Simon moved to the dramatic Red Rock Country of Northern Arizona where he resides in beautiful Sedona, Arizona with his wife, stepson, and daughter.
Red Rock Country
Arizona – United States