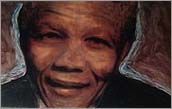 Please Click On The Picture Link Above For More Information:

About:
I was here before I came.....
roots run deep
open country, sliprock canyons....mesas
my soul wrapped tightly around
sandstone boulders, sweet smelling sage...
across
land.time.place
a respect and love for the people
I walk this land in my collective memory
a link between past and present,
illuminating the Native traditions,
in passion, in humbleness.
with pen and brush,
a collection of vibrant, moving images
stories untold till now,
gathered in the name of our relations.
I transverse this land....only now...but also before
.........I was here before I came
only the faces will tell their stories.
today....
listen....
and they will speak to you.
.......julie.a.miller
within my paintings, a hope to give voice to those that could not speak for themselves. My medium is mostly watercolor inks, and india ink. all of my images come to me in dreamtime, and the poetry I share with them are their stories..
may your journey be a walk of peace, hope and light.
i live in old town, maine.
i live to paint.
thank you for taking the time to journey on my art site.
mitakuye oyasin....