Mandela Madiba
Description:
From prisoner to president, in memoriam, Nelson Rolihlahla Mandela 1918 - 2013
Please Click On The Picture Link Below For More Information: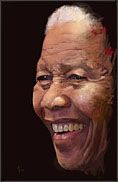 Please Click On The Picture Link Above To See Arie's Web Page:
Email Arie Of More Information:
About
I love to paint. It's is my favorite thing to do and I pride myself in trying to achieve the greatest likeness I can as realism in my art is very important to me. I have been commissioned to do acrylic paintings and drawings of animal portraits, landscapes, birds, pets and many other subjects over the years. My work is in different collections in several states of the U.S. and in several countries in Europe.
If you would like to commission me to do a painting of a portrait of your favorite cat or dog, a bird of prey or a landscape that you particularly love then please do contact me. I will be happy to discuss this with you. As I said, I specialize in realism so you can sure the painting will show the spirit of your beloved pet and will be as close to the original as possible.
Copyright of all the works in this gallery belong to Arie van der Wijst and may not be reproduced or used without permission.
WHEN YOU PURCHASE A PIECE THE FAA WATERMARK WILL NOT BE IN THE PICTURE OF COURSE.
Best wishes,