Angel Madiba - Nelson Mandela
Description:
The great Nelson Mandela (1918 - 2013) as Angel Guardian of South Africans
Please Click On The Picture Link Below For More Information: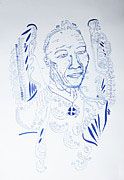 Please Click On The Picture Link Above For To see Gloria's Web Page:
I hope while you're here you are also able to enjoy as I did the journey to discover the joy of art in all its forms. I love to hear from all who come to view my work do enjoy yourself and I hope you are also inspired by the Divine
All this work is my copyright Gloria Ssali ( all rights reserved and protected by US and International Copyright Law. ) no piece of art or any section of it can be used or copied or disseminated for any purpose without my permission Gloria Ssali.
<>
One of my favourites of Nelson Mandela from Gloria Ssali, a member of the African Theme Artwork Group in Fine Art America.
I asked Gloria if she would produce an image of Nelson Mandela in her particular style of working and I think she has done a great job.
Thanks Gloria and thanks for allowing me to showcase your work in this tribute to the great man.
Will there be more?
London - United Kingdom