Leading The Way
Description:
Nelson Rolihlahla Mandela embodies the spirit of the Adinkra Symbols his courage and leadership played such an important part in his role in unifying his country.
Wikipedia has a very good bio and I will quote from that.
"A Xhosa born to the Thembu royal family, Mandela attended the Fort Hare University and the University of Witwatersrand, where he studied law. Living in Johannesburg, he became involved in anti-colonial politics, joining the ANC and becoming a founding member of its Youth League. After the South African National Party came to power in 1948, he rose to prominence in the ANC's 1952 Defiance Campaign, was appointed superintendent of the organisation's Transvaal chapter and presided over the 1955 Congress of the People. Working as a lawyer, he was repeatedly arrested for seditious activities and, with the ANC leadership, was unsuccessfully prosecuted in the Treason Trial from 1956 to 1961. Influenced by Marxism, he secretly joined the South African Communist Party (SACP) and sat on its Central Committee. Although initially committed to non-violent protest, in association with the SACP he co-founded the militant Umkhonto we Sizwe (MK) in 1961, leading a sabotage campaign against the apartheid government. In 1962, he was arrested, convicted of conspiracy to overthrow the state, and sentenced to life imprisonment in the Rivonia Trial. Nelson Mandela served over 27 years in prison.
In An international campaign lobbied for his release. He was released in 1990, during a time of escalating civil strife. Mandela joined negotiations with President F. W. de Klerk to abolish apartheid and establish multiracial elections in 1994, in which he led the ANC to victory and became South Africa's first black president."
Please Click On The Picture Link Below For More Information: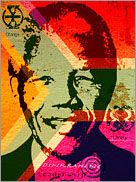 Please Click On The Picture Link Above To See Kandy's Web Page: