Nelson Mandela 2008
The original work is currently for sale.At the present time, originals are not offered for sale through the Fine Art America secure checkout system. Please contact the artist directly to inquire about purchasing this original by clicking on the picture link below.
Please Click On The Picture Link Below For More Information: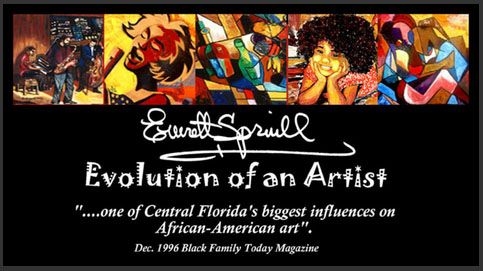 Please Click On The Picture Link Above To See Everett's Web Page:
Everett Spruill was born in Birmingham, Alabama 1954. Earned a degree in Business Management from Berea College, Kentucky 1976. As a youth Everett spent many afternoons at the Birmingham Museum of Art. The museum and his early exposure to classical music would prove to have a great influence on his artistic development. 'Mom worked at A.G. Gaston's Lounge in the afternoon, I'd wait for her at the Museum until she got off …the Museum was my refuge and fueled my love for art. I really enjoy working with my hands, drawing and wood working projects were part of our "Industrial Education during the 60's. I also had an ear for music so mom insisted I have voice and piano lessons'.
For more than 30 years Everett, a self-taught artist, has been involved in collecting and creating works of art. He currently conducts art workshops for Central Florida youth through his non-profit foundation and is former owner of The Ethnic Art Gallery, Orlando, Florida.
Everett advocates the necessity of art to enrich our lives and firmly believes the arts help us all become well-rounded and constructive individuals. Everett is most known for his early collages and works on paper, notably, the 'Old School Jazz and Blues Series', which feature colorful images of the fathers and legends of our own American art form known as Jazz. After graduating from Berea College and working as a Hotel Manager until 1989, Everett began his career as a full time professional artist. Everett's art is influenced by American Artists Arthur Rayford, Romare Bearden, Jacob Lawrence, Elizabeth Catlett, Charles White and Frank Stella to name a few.
Everetts' art explores his personal world of contemporary aesthetics and culture. He creates a dialogue with the viewers of his ethnically inspired images using his own mixed media visual language. Spruill communicates his unique artistic language through the use of intense color and rich surface textures. The image is further enhanced with African inspired patterns, and hand written social commentary to further communicate with the viewer.
Paint, photos, various types of hand-made paper, layers of glazes, watercolor, pen and ink, pastel and charcoal, to name a few, are Everett's' tools for conversing with the viewer. Extensive use of spray painted-hand cut stencils, African textiles, shells, found objects and a Adinkra symbols further enhance his visual language.
These elements transform the pictorial image into a work of art that has true meaning and tramsforms the canvas into a rich opulent surface that invites the viewer to take a closer look. Spruill, also an innovative print-maker, transforms his original mixed media collages into unique original graphics using a process he invented using elements of serigraphy and graffitti.
Everett accepts both public and private commissions and his work is in corporate and private collections worldwide.
ARTIST STATEMENT
I work in three styles and use a variety of found objects, including, but not limited to, shells, magazine pages, tissue, postage stamps, various paint mediums, photographs, cut and torn hand-painted paper, air-brushed hand-cut silk-screens and drawings. Themes for my creations range from Music (Jazz and Blues), West African Culture and my experience as an African-American Experience, but most of all "Family".
As a self-taught artist my techniques are the result of extensive experimentation. 'Most of my creations begin with several thumbnail sketches. Harmony and contrast are the most important qualities I want to convey and it becomes even more important in the works I call "Intuitive Creation" called Mindscapes, Tribal Rhythms and Middle Passages Series. These images are created mainly by letting go of conscience thought, relying more on intuition, instinct. Since the steps are intuitive and emotional rather than cognitive, The exact processes are not easy to repeat, the end result is always different....but better.