Mandela
Description:
A digital interpretation of a sketch of Madiba sold to a collector in Port Shepstone
For moee information please click on the link below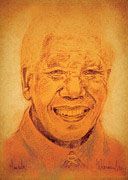 About Christo
In addition to his current passion for Abstract Expressionism, Ancient Calligraphic Symbols and Impressionism, Dramatic compositional tension and Chiaroscuro lighting is characteristic of the style when Christo Wolmarans works in Charcoal, Oils or Oil-Pastels; where he has now carved his niche. In his quest for instant gratification, the negative space of the dark ground completes the picture for the viewer. With his loose expressive style in line or brush, an intriguing form of realism is optically created. 

Christo Wolmarans has twenty years experience in Graphic Design. Originally from Johannesburg South Africa, he studied Graphic Design at the Witwatersrand Technikon (now Johannesburg University), qualifying in 1985. He was offered a studio position in the same year at TBWA Hunt Lascaris where he gained valuable experience from advertising doyans John Hunt, Basil Mina and Jenny Groenewald.
He won a few Art Direction awards for his share done on the Exclusive Books account as well as a Loerie for the South African Optometric Association (poster) and a Clio for the South African Broadcasting Corporation (poster).
Christo Wolmarans took a break from practising advertising to lecture in Graphic Design between 1993 and 1995 at the AAA School of Advertising as Deputy Course Director where he assisted in formulating the syllabus with Peter Forrest-Smith.
In 1996 he accepted a Senior Graphic Design position at Ogilvy's in their promotional department working mainly on the Amstel Lager and K-TV (M-Net) accounts and later briefly reunited with old fellow colleague; Graham Lamont to work on KFC.
Commissioned for artwork in various illustration media ie Charcoal, Pen and Ink, Watercolours, Oil-Pastels and Oils by the advertising, publishing industries and private clients. 

In 2001 Christo Wolmarans moved down to the Western Cape and freelanced as an illustrator for educational publishing companies Maskew Miller Longman and Nassau Via Africa.
In 2004 he freelanced for a few design studios in Somerset West, designing labels, packaging and promotional items for the wine industry as well as Creative Direction on The Green Times and Renaissance magazine.


He has also been commissioned for artwork in illustration media ie Charcoal, Pen and Ink, Watercolours, Acrylics, Magic Marker renderings, Oil-Pastels and Oils by the advertising industry and private clients.
His work is purchased by collectors in Pretoria, Johannesburg, Cape Town, Windhoek, Perth and New York.