Nelson Mandela
Description:
A tribute of my own to Mandela.
Please Click On The Picture Link Below For More Information: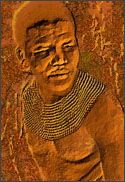 Please Click On The Picture Link Above To See Stefania's Web Page:
Hello and welcome to my little space. In the field of the arts, my main interest is in the therapeutic aspect of colour. I am a holistic scientist and my areas of expertise are holistic science, homeopathy and psychotherapy. I am interested in colour healing and art therapy. I was introduced to Goethe's theory of colour at Schumacher College, UK and to Steiner's art therapy at Emerson College, UK. I also took some short courses in colour healing with various schools during my long stay in the U.K. I am Italian and I was born and brought up on an island of the Venetian lagoon. When I was a child, I learnt a few things about oil painting from Venetian artists who used to come to the island to paint. According to my mother, my love for colour started at the pre-natal stage. She told me once that when she was pregnant with me, she fell in love with colours and noticed them more than usual. Digital technology is now allowing me to express my love of colours in ways that are new to me. I especially love collage, textile designs and abstracts. I like to try different techniques such as watercolour, oil and wax. Besides colour, I love music and I play the ukulele.