Invictus Tribute
Description:
This day I am inspired by Invictus, a poem written by Wm. E. Henley, first published in 1875 in The Book of Verses. Such wisdom and inspiration in the message of the poet. It is an honorable message that we can all learn from today. This day, paying tribute to it and to President Mandala who was so inspired by it. I felt it an important message that we could all have it over our desk, or in a special place to remind us that we are the captains of our soul, and that freedom rings within us in different ways and the ability to be free to choose each day is an important gift to each of us.
Prints are available, canvas prints, acrylic prints, metal prints; framed and matted as well as greeting cards;
Please Click On The Picture Link Below For More Information: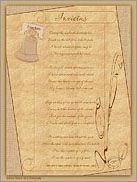 Invictus Tribute 2
Description:
In tribute of this inspiring poem by Wm. E. Henley, first published in 1875 in the Book of Verses I created this work to be shared and a reminder to us all of its powerful message. A message that was inspiring to President Mendela and it uplifting message still rings true today.
Please Click On The Picture Link Below For More Information:
Please Click On The Picture Links Above And Below To See More Of Bobbee's Work:
About:
Bobbee, a Nevada Artist-Photographer-Calligrapher, known as The Kreative Kid, came from a creative family. Her Father, an artist who could draw portraits and sketches at 5 years old. A grandmother and mother who were always creating crafts or wonderful projects of some sort. She earned a Distinguished Young Artist Award at age 10 and has always played in the realm of creativity in many forms. At age 6 her Father sat her at the table with a well of ink, and a Calligraphy Pen and encouraged her to learn the beautiful art of lettering. Always surrounded by the world of art, from painting, to drawing, to photography, writing. Photography combined with Digital Art, Graphic Design is her recent passion. And then add her inspirational messages you have a winning combination of creativity to grace the decor of any room. Her inspirational speaker background uplifts her images with her own quotes, photography and art. She finds art a perfect medium to share positive principles with kids, and mentors her grandkids in the world of art and photography, passing on the love of the arts through new generations.
Sparks, NV - United States