Mandela
Description:
Tibute to the late Nelson Mandela
Please Click On The Picture Link Below For More Information: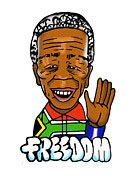 Please Click On The Picture Link Above To See Saul's Web Page:
Please inquire through email for commissions:
I grew up in Central Birmingham, where diversity governs discourse and hip hop culture resonates amongst the youth.
Always passionate about artistic creation I sourced inspiration from the ever evolving landscape of Graffiti writers. from this, came a momentum that carries my ambition and artwork forward.
Today, I am a visual artist seeking to represent people and stories of past and present in such a way that is both imaginative and original. Each piece of art is patiently crafted with detailed technique, before being applied to different mediums to create a style exclusive to my interpretation of modern art...
WATERMARKS WILL NOT SHOW ON PRINTS.
My Images Do Not Belong To The Public Domain.
All images are copyright © Saul J Yarm. All The Materials Contained May Not Be Reproduced, Copied, Edited, Published, Transmitted Or Downloaded in Any Way. All Rights Reserved. Copying, altering, displaying or redistribution of any of these images without written permission from the artist is strictly prohibited.
Raanana - Israel