Nelson Mandela
Please Click On The Picture Link Below For More Information: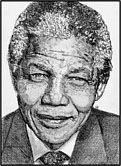 Nelson Mandela
Please Click On The Picture Link Below For More Information: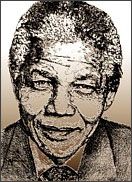 This piece can be made available in the other formats and colours you find in my Mixed Media Gallery.
Nelson Rolihlahla Mandela (born 18 July 1918) is a South African anti-apartheid revolutionary and politician who served as President of South Africa from 1994 to 1999. He was the first black South African to hold the office, and the first elected in a fully representative, multiracial election. His government focused on dismantling the legacy of apartheid through tackling institutionalised racism, poverty and inequality, and fostering racial reconciliation. Politically an African nationalist and democratic socialist, he served as the President of the African National Congress (ANC) from 1991 to 1997. Internationally, Mandela was the Secretary General of the Non-Aligned Movement from 1998 to 1999.
A Xhosa born to the Thembu royal family, Mandela attended Fort Hare University and the University of Witwatersrand, where he studied law. Living in Johannesburg, he became involved in anti-colonial politics, joining the ANC and becoming a founding member of its Youth League. After the Afrikaner nationalists of the National Party came to power in 1948 and began implementing the policy of apartheid, he rose to prominence in the ANC's 1952 Defiance Campaign, was elected President of the Transvaal ANC Branch and oversaw the 1955 Congress of the People. Working as a lawyer, he was repeatedly arrested for seditious activities and, with the ANC leadership, was prosecuted in the Treason Trial from 1956 to 1961 but was found not guilty. Although initially committed to non-violent protest, in association with the South African Communist Party he co-founded the militant Umkhonto we Sizwe (MK) in 1961, leading a bombing campaign against government targets. In 1962 he was arrested, convicted of sabotage and conspiracy to overthrow the government, and sentenced to life imprisonment in the Rivonia Trial.
Mandela served 27 years in prison, first on Robben Island, and later in Pollsmoor Prison and Victor Verster Prison. An international campaign lobbied for his release, which was granted in 1990 amid escalating civil strife. Becoming ANC President, Mandela published his autobiography and led negotiations with President F.W. de Klerk to abolish apartheid and establish multiracial elections in 1994, in which he led the ANC to victory. He was elected President and formed a Government of National Unity in an attempt to diffuse ethnic tensions. As President, he established a new constitution and initiated the Truth and Reconciliation Commission to investigate past human rights abuses. Continuing the former government's liberal economic policy, his administration introduced measures to encourage land reform, combat poverty and expand healthcare services. Internationally, he acted as mediator between Libya and the United Kingdom in the Pan Am Flight 103 bombing trial, and oversaw military intervention in Lesotho. He declined to run for a second term, and was succeeded by his deputy Thabo Mbeki, subsequently becoming an elder statesman, focusing on charitable work in combating poverty and HIV/AIDS through the Nelson Mandela Foundation.
Controversial for much of his life, right-wing critics denounced Mandela as a terrorist and communist sympathiser. He has nevertheless received international acclaim for his anti-colonial and anti-apartheid stance, having received over 250 awards, including the 1993 Nobel Peace Prize, the US Presidential Medal of Freedom and the Soviet Order of Lenin. He is held in deep respect within South Africa, where he is often referred to by his Xhosa clan name of Madiba or as tata; he is often described as "the father of the nation".

©J.McCombie
Just a friendly reminder: All images contain my legal copyright covered by all international copyright laws and therefore, may not be downloaded, uploaded, transmitted, copied, edited, published, printed, or reproduced in any way or form without my express written permission. Purchasing an original artwork or print does not grant the buyer the right to copy. PLEASE ALSO NOTE: if you find any image on a website other than this one or on Amazon.com, which contains my name in the bottom left corner and the Fine Art America watermark at the bottom right corner of that image, it is there ILLEGALLY and therefore, STILL CANNOT LEGALLY be downloaded, uploaded, transmitted, copied, edited, published, printed, or reproduced in any way or form without my express written permission.
As they say, art is a form of personal expression. This website is able to offer you several options on what background material and size you would like the artist's work to be printed. However here, I am also offering you the opportunity to personalize even further the artwork you choose by providing the option of formats the artwork could take. What you see here doesn't necessarily mean it's what you have to get.
For example … you might wish one of my "Colourful Individuals" photographs as: "Black and White" (plain, textured or embossed); "Sepia" (plain or embossed); "Painted" (with or without texture) or just have the original "Embossed"; or you could go even further and have one made into something more digitally manipulated as in my "Individuals of Different Shapes" Gallery … or even more abstract as in my "Colour Composition of Nature" Gallery. You might favour one of my mixed media "Portraits" in a different colour. Perhaps you would like to select several items to be made into a collage or have a collage broken down into individual pieces. You may wish an item to be flipped horizontally or vertically or the name of your final decision to be printed on it. I have tried to design the Galleries so they can all be mixed and matched for any particular artistic statement you might wish to make. So, this website is about you and what you like … I'm just providing pieces and abilities I have to help you do that.
If you see an item in any one of my Galleries and would like to see it in the format of another, or even a format I haven't tried yet … don't hesitate to drop me a line. I would be more than happy to help make the artwork you choose fit YOUR personal expression!
I know ... I'm supposed to have a biography in this space - so, here's a little about me …
DRAWING: A friend drew a portrait for me in the late 1970's … so I thought I would give it a try and have been drawing pencil portraits since for myself, family and friends. Some have been submitted to magazines. And April 2012 marks my first attempts with drawing with colour pencil.
PHOTOGRAPHY: I began just a few years ago to take photographs of the beauty in my own backyard.
PAINTINGS, DIGITAL ART and MIXED MEDIA: Since I began uploading those photographs and pencil drawings to sell here, I've begun to mess around with them on the computer … just for something different.
THE FUTURE: I'm hoping to expand my artistic ability to more genres as time passes. For the present, all skills which have brought me to this point pertaining to what you see on this website are still evolving … because they are all self-taught.
I hope you've enjoyed what you've seen. May whatever you purchase be a good representation of you! And if your artistic expression changes, please allow me to help you convey it with another piece at that time. Thanks again for your visits and your purchases! ...J. McCombie