Mandela 1
Description:
Mixed Media Portrait of Nelson Mandela. Created with paper, pencil, fabric and paint.
Please Click On The Picture Link Below For More Information: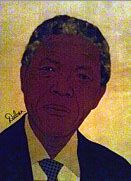 Mandela 2
Description:
Mandela 2 is a Mixed Media Portrait by Artist, Delvon.
Please Click On The Picture Link Below For More Information: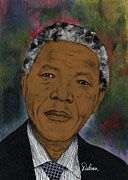 Please Click On The Picture Link Above To See Devlon's Web Page:
Growing up in Mississippi gave me a deep appreciation for African-American Southern History, and it's Culture. I'm a self-taught artist with a focus on Mixed Media Works. (Abstract, Collage and Portraits). I give thanks to my Mother for nurturing a creative space for me in the household, where she would often draw with me. Over the years I learned I was good working with my hands, and started my own Hand-crafted greeting card line as a creative outlet. By experimenting with different material, I developed an original style of creating portraits that included everything from Paper, recycled jeans to yarn. It's safe to say I'm in love with Mixed Media. I get a thrill from the challenge of working with uncommon found pieces. I now continue to grow my collection of works in Atlanta, GA where I participated in my first Art Exhibit at Southwest Arts Center. I was also invited to show my works at a private event held by the National Black Arts Festival. I'm now a member of the RAW Artists Network where I was featured in their RAW DISCOVERY Show in Atlanta 2013.
I draw Inspiration from people, their culture and unique characteristics. I collect all sorts of material that catch me eye, then find creative means to incorporate them into my works. I believe I create for a universal audience of Art Lovers everywhere. I'm passionate about creativity and always exploring new techniques and styles I haven't tried before. My body of work is rich with textures and deep colors that evoke emotion. The subjects portrayed in my art are both familiar personalities as well as abstract, fantasy characters that stretch the Imagination.