Madiba
Description:
I've admired him. He will truly be missed but not forgotten!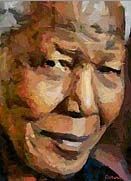 Description:
Digitally altered my painting "Modiba"
The original work of art is currently for sale. Presently original paintings are not offered for sale through the Fine Art America secure checkout system. Please contact the artist directly for any inquiries regarding the purchase of the original work of art.
Please Click On The Picture Link Below For More Information.
Information on Dragica Micki's Work
'Art and music are to my soul, as food and water are to my body.'
Born in Ljubljana, Slovenia. She attended the University of Ljubljana, postgraduate studies from chemical science and graduated from economics. After retirement, attended lectures at the Academy of fine arts and design in Ljubljana, and attended the advanced courses in drawing and painting. In the paintings reflects an optimist by nature and leon by horoscope. She practices drawing by pastel, painting by acryl and mixed technique, she occupy oneself with photography and digital art. She is currently devoted to her passion for encaustic paintings. She presenting her art works at individual and collective exhibitions at home and abroad.
All prints are fully guaranteed by FAA with a 'no questions asked' refund policy. FAA now offers unique canvas prints, metal prints, acrylic prints, and posters, as well as hundreds of frame and mat choices. Additionally, 5'x7' greeting cards are available which also make beautiful mini-prints for framing and gifting. Enjoy choosing a piece of art for your home, place of business, or to give as a gift!
All Content, Images and Prints Copyright ©Dragica Micki Fortuna and may not be copied, scanned or reproduced in any manner for any reason without written permission - All Rights Reserved.
<>
Please Click On The Link Above To See Dragica's Web Page.