Nelson Mandela #1
Description:
A tribute of an icon of hope and inspiration.
From more information click on the picture link below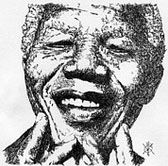 Nelson Mandela #2
Description:
A version of 'Nelson Mandela #1" with additional text written across it.
From more information click on the picture link below
Nelson Mandela #3
Description:
The original artwork (which is in blue) is for sale.
This original painting is currently for sale.At the present time, originals are not offered for sale through the Fine Art America secure checkout system.Please contact the artist directly to inquire about purchasing this original by clicking on the picture link below.
<>
About Kimmo:
I'm an independent artist from Finland, focusing mostly on erotic and sensual portraits (and detail images) of men and their body. Each image represents my view and philosophy on erotica and sensuality. I consider the human body, male or female, a work of art and something to be celebrated. Some of my works are highly erotic, some are more tame. I see nothing wrong in portraying sexual themes, I see it as a natural extension to our individuality and expression. No shame here.
On occasion I work on other themes such as portraits of women, men and animals, as well as abstract forms.
In case you are interested in modeling for an art piece, I'm up for it. Just send me a message or email me directly: kimmomatias@gmail.com
Mainly I work with graphite on paper, oil/acrylic on canvas/canvas textured paper, digital art and photography (not just nudes, more works to be uploaded here soon).
Feel free to browse through my work and give me feedback.
Artist life is sometimes a dog's life but the view that you have on the world through artist's eyes makes it all worth while!
In addition, I am also an independent musician. Feel free to check out my other pages (links below).
Art page on Facebook: www.facebook.com/pages/Naughtica-Art-by-Kimmo-Matias/605425209481794
Artist page on Facebook: www.facebook.com/KimmoMusic
Music page on ReverbNation: http://www.reverbnation.com/kimmo
Music page on Bandcamp: http://kimmo.bandcamp.com/
Please let me know if there is a piece that you find interesting or/and are interested in buying.
Much love and many thanks for your interest,
Kimmo Matias