Description:
The first of a series of drawings of Nelson Mandela or Madiba as he is known in South Africa; such an icon here. Also known as South Africa's Gandhi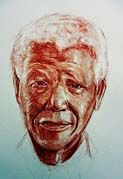 Nelson Mandela
Description:
I have painted Mandela many times now and always try and get the expression in his eyes right which I think I have achieved with this painting
A FEW WORDS ON MICHE'S WORK
I am an English figurative artist now living in Cape Town. My first love is painting people in oils, either as portraits or figurative paintings with a narrative theme. I also, however, paint figures in acrylic with absolutely no detail at all in their faces - the complete opposite of my portraits. I have a lot of fun painting these and have stuck with cream on white as that seems to suit most homes. Recently I have been adding a touch of red which seems to work well.