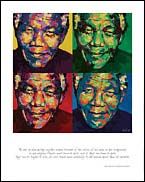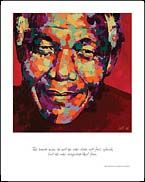 Description:
We are often 'boxed-in' by our skin colour, I want to escape from the false perceptions that society creates and to show that, who we are, is not defined by the colour of our skin.
Madiba played a key role in making this possible in South Africa. It just makes sense for me to paint his portrait with bold, bright colours.
Please Click On The Picture Links Above For More Information.
Salli On Her Working Techniques
I often get asked, how do you know what colours to use, or how do you see those colours in your subjects?
During my training as a Graphic Artist and throughout my work in advertising and design, colour has played a very important role in my work. My Pantone Colour Guide was my most important tool.
Whilst studying art I fell in love with Andy Warhol's silk screened faces and the cartoon images of Roy Lichtenstein. Nothing fascinates me more than people's faces. It therefore seemed logical to combine my knowledge of colour with my love for portrait painting.
Colour is everywhere. We are surrounded by it, we cannot avoid it and I find my inspiration can come from anywhere. Each painting I create is an experiment of different colour schemes. Colour is fundamental to our sense of self and has also been at the heart of human culture.
My favourite tool is a palette knife. I can apply colour in one stroke and leave it and I often tend to get beautiful 'accidental' stroke shapes. I choose to use acrylic paint as I apply the paint very thickly and then wait for one colour layer to dry before applying the next. Oil does not give me the flexibility I need to do my work as it takes too long to dry between layers.
My technique has become more about mixing the right colour for the right place and using the correct tonal value to create light and shadow. Every painting is different because it is a different face, with different proportions, different tones and different personalities. I get very excited when I start to see the person emerge through the layers of colour. Starting with a sketch of only the very basic shapes of a persons facial features, I remain constantly amazed at how the likeness in my paintings emerges mostly towards the very end of a particular piece. This is the magic of colour and what I think intrigues people about it.
<>